Welcome to Parent Community Sports Trust Website (PCST)
Peterson Park Hall Regeneration: Peterson Park Hall is home to local Dance, Drama and Fitness groups. Closed down during COVID we want to repair and refurbish our community hall. The heating does not work, it needs redecorated and we want to install dance studio wall mirrors. DONATE NOW
BSC Glasgow/PCST Recruitment
Parents Community Sports Trust are seeking Dance teachers to join BSC Storm Dance based in Knightswood Glasgow. We have paid roles for people with suitable experience and qualifications. We also have volunteer roles for people wanting to develop their coaching skills with us. Please send a brief resume to mail@pcst.org.uk
We are looking for a General Manager to support our Women's Football first team. We play in the national League One. Based in the West End of Glasgow. Can you help us grow semi-professional football at our Club. Please send us a brief sporting resume to mail@pcst.org.uk
Assistant Head Coach (Football) wanted at BSC Glasgow Women. We play National League 1. We train on Tuesday and Thursdays and we play our home games at Peterson Park in Knightswood. Pease send us sporting career resume to mail@bscglasgow.co.uk
Goalkeeper Coach (Football) wanted at BSC Glasgow Women. We play National League 1. We train on Tuesday and Thursdays and we play our home games at Peterson Park in Knightswood. Pease send us sporting career resume to mail@bscglasgow.co.uk
Community Coaches (Football) needed for BSC Girls. We train in the west end of Glasgow on Tuesday and Thursdays evenings. We welcome people new to coaching and can fund Coach education. Please tell us about your football experience at mail@bscglasgow.co.uk
BSC Glasgow FC require a Stats/Analysis videographer for our Men's and Women's first teams. The position for a volunteer and some expenses will be available. For more information please contact us at mail@bscglasgow.co.uk
BSC Media FC are looking to add to our media team with a match reporter. In particular we want coverage of our Men's and Womens first teams. The position for a volunteer and some expenses will be available. For more information please contact us at mail@bscglasgow.co.uk
BSC Glasgow (Football) are seeking youth team coaches for the coming season . We have paid roles for people with suitable experience and qualifications. We also have volunteer roles for people wanting to develop their coaching skills with us. Please send a brief Coaching resume to mail@bscglasgow.co.uk
BSC Glasgow (Netball) are seeking youth team coaches for the coming year . We have paid roles for people with suitable experience and qualifications. We also have volunteer roles for people wanting to develop their coaching skills with us. Please send a brief Coaching resume to mail@bscglasgow.co.uk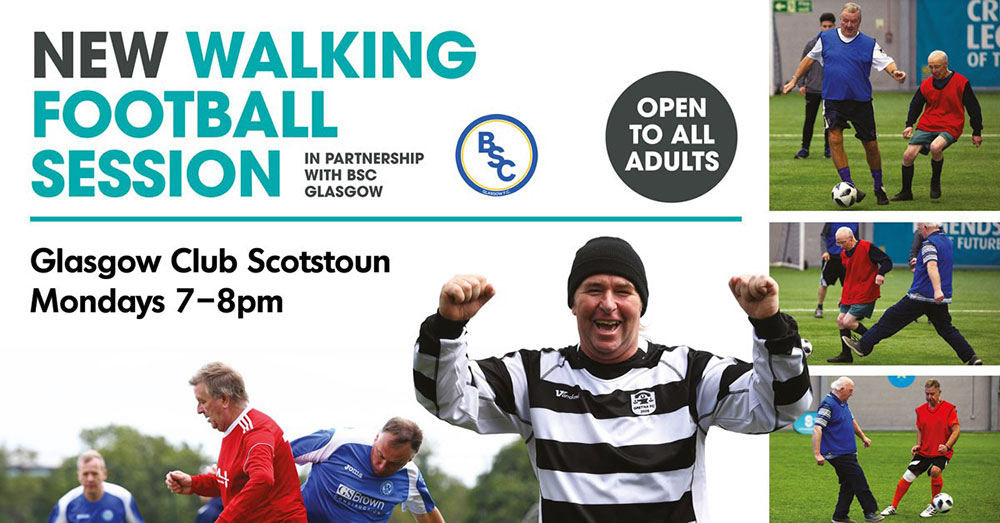 New Walking Football Session with Glasgow Club Scotstoun. Open to all adults and is on from 7 to 8 pm every Monday evening.
BSC GLASGOW TACKLING DOPING AT GRASSROOTS LEVEL: Antidoping GREEN SEAL 4th Meeting In Brussels April 8-9th April 2019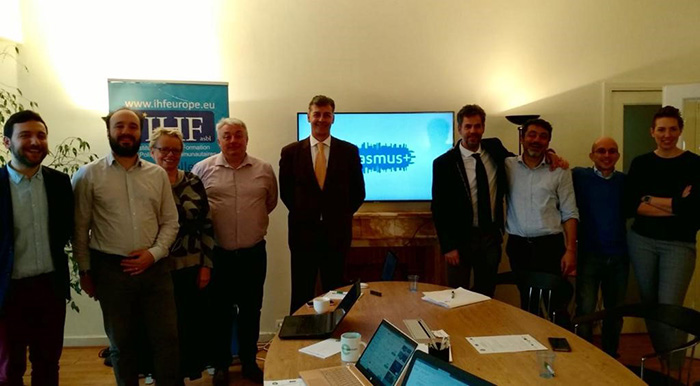 The Parent Community Sports Trust (BSC Glasgow) participated in the 4th meeting of GREEN SEAL ANTIDOPING on April 8 and 9 hosted by Belgian partner IHF in Brussels. The project involves 6 partners from Belgium, Croatia, Italy, Poland, Spain and the UK and it is funded by the Erasmus Plus Programme, Key Action Sport. Read more
Parent Community Sports Trust (PCST) in Glasgow for the 3rd Meeting of GREEN SEAL, an Erasmus+ Sport Project - 8th November 2018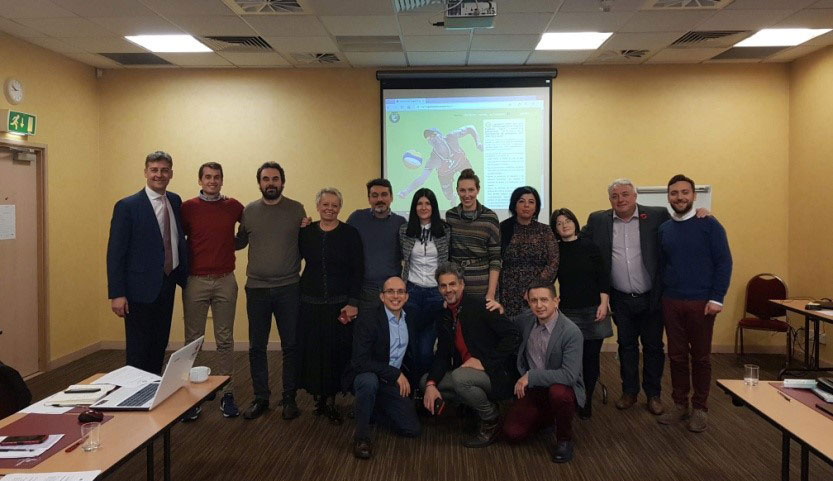 The Parent Community Sports Trust was in Glasgow on November 6th and 7th for the 3rd Transnational Project Meeting of ANTIDOPING Green Seal.
ANTIDOPING Green Seal is a Project co-funded by the Erasmus Plus Programme, Key Action Sport, bringing together six partners from Belgium, Croatia, Italy, Poland, Spain and the UK.
Read more about the Green Seal meeting in Glasgow
The Green Seal Project
The Green Seal project is co-financed by the Erasmus+ – Sport – Collaborative partnerships – programme under the Call for proposals 2017 (EAC/A03/2016) This action offers the opportunity to develop, transfer and implement innovative practices in different areas relating to sport and physical activity between various organisations and actors in and outside sport.
Read more about the Green Seal project
Green Seal Warsaw Meeting
PCST (Parent Community Sports Trust) was in Warsaw on June 26th and 27th for the second Meeting of the ANTIDOPING Green Seal Project, co-funded by the Erasmus+ Programme, Key Action Sport, bringing together six partners from Belgium, Croatia, Italy, Poland, Spain and the UK. Read more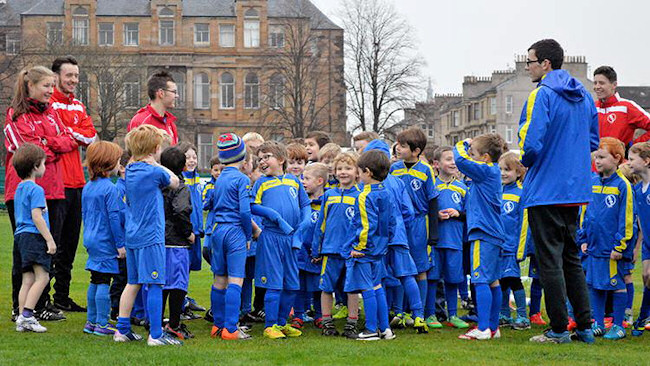 Broomhill Sports Club & Parent Community Sports Trust (PCST) (SC044806)
You can support us by using our JustGiving page - www.justgiving.com/pcst
PSCT and BSC: Campaign for cheaper sports facilities
Can you help us campaign for a reduction in the cost of sports facilities in Glasgow.
Glasgow charges more than double for training facilities than other Councils in Scotland.
READ MORE or you can help by signing our electronic petition by CLICK HERE
A Public Health Campaign :: 'Let's Live Longer Scotland'
We are starting a campaign to ensure that state educated children take part in a minimum of 6 hours physical activity per week.
We are a Parent led community sports club based in the West End of Glasgow; we provide inclusive sport for 750 children and young adults. PCST has been founded by Parents to further expand inclusive sport.
We are looking to influence and change the way we invest in Sport and physical education in Scotland. We are of the opinion that a radical approach is required to change the decline in public health through lack of physical fitness and a combination of poor diet.
There are certain facts that make us frustrated yet drive us forward. The key drivers for us are;
Childhood obesity and the ensuing health issues such as diabetes

The poor life expectancy in Glaswegians and Scots compared with other Europeans

Young people involved with Drugs, Drink and Violence

Divided Communities through Race and Religion
The club recognise that there is a crisis developing in the state of public health and have observed the efforts of a number of agencies to improve the Nation's health. The club sits in a unique position amongst sports organisations in Scotland; we are successful in getting large numbers of young people active and can attract large numbers of volunteers. This is despite a complete lack of facilities and with no direct funding from Central or Local government.
Broomhill Sports Club wants to see the following as a way forward to change the current and deteriorating health of the Scottish population.
Make our Schools the focus for increasing physical activity and health and well being in young people.
Increased sports provision in state Schools to replicate the private sector, a minimum of six hours per week. (Half day school sports days , early morning sessions, inter school team events and a pathway to community sport)

Individual children would have a personal activity target. Children should be expected to participate in activities in the same way we expect them to read and write.

Base activities around traditional sports with room for alternative physical activities for targeted individuals.

School based Coaching Teams will foster Parental participation to help create Community groups such as Broomhill Sport Club to support their own activities and develop extra curricular activities.

Multi skilled Sports Development teams based in Schools with a remit for organising competitive team sports, volunteer development and individual motivation programmes for targeted individuals.

The coercion and education of local clubs to get involved or create willing participants of our own clubs.

Investment in local sports facilities to have a criterion of meeting the demands of multiple sports and not just one single code.

Investment in inclusive sports organisations to be a priority above selective and elite organisations
There would be a change in the role of PE and PE Teaching in Schools. We would need a complete perception change in what we see Schools doing with our young children. It's a perception that says you need a Healthy Body to have a Healthy Mind. This is not an original concept and is something that is a key feature of most mission statements in Private Schools. We feel that the focus would be about attaining a minimum amount of physical activity for each child throughout their School career. Every Scottish child should be able to run a sub 10 minute mile without stopping. How we get there will require a degree of ingenuity and flexibility from Coaching Professionals.
The challenge is that we are dealing with a generation of Parents who have no habit of regular sports participation. This generation can not and will not get the nations young people fit and healthy, this has to start in Primary Schools as a minimum curriculum requirement.
Cost
We understand that cost would be the first concern of Government. However this is an incredibly cost effective solution to the long term health and well-being of the population. Funding would come from;
Saving in payment of Sports Coaches instead of teachers

Divert existing funding and resources away from local leisure company's and governing bodies into School sport.

Savings in Health spending will cover the cost of the project and provide a dividend for other underfunded services.

Savings in Social Work and Policing costs from providing alternative youth and community activity

Volunteer Contributions of time and expertise
We are looking to meet with any individual or group who is interested in our aims and objectives. If you want to support us we would be pleased to hear from you.
The Campaign will start under the banner of 'Let's Live Longer Scotland'
For more details contact:
mail@pcst.org.uk
0141 280 2464
Charity Trustees
Kevin Niven: Chair
Jacqueline McGill: Treasurer
George Fraser: Secretary
Delia McPherson: Trustee
Alan Hubner: Trustee